The home page is designed to include up to 25 full screen images relevant to every location. These might be local landmarks or interesting architecture or maybe a beautiful sunset.

The world is a BIG PLACE so this multi-image home page feature is not visible everywhere ! We are populating the database with awesome images and when your app is opened in a location where there are images available, then they will be shown immediately (finger slide left/right).

The is a limit of 25 images location images at the moment. Every image is tagged with a latitude/longitude and these are shown in the "closest to further away" from your current location order. The maximum distance that any image can be from your location is currently set to 50 miles. If there are no images within 50 miles in our database then the "Showcasing the Local Experience" page will be the only page shown.

You are welcome to donate one of these images
to communicate the beauty of your community. We use JPG images and crop these to 726 pixels wide x 1300 high. It would be great to use
https://tinypng.com
to further reduce the file size so they load as quick as possible. One other rule...
please do not have any identifiable people
in the image. If you do show a few people in a great shot, please add a discrete blur over their faces. Also, please include a description of the city & location in the city where your image was taken and if you know how... please include an exact latitude - longitude. An example of a good lat/lon for the Eiffel Tower in Paris would be:
48.857842
/
2.295176
If you don't know how to get the lat/lon, we can do that conversion here at 2du.
If it's a great image, we can add it to the app fairly quickly ! Example home images for San Francisco below.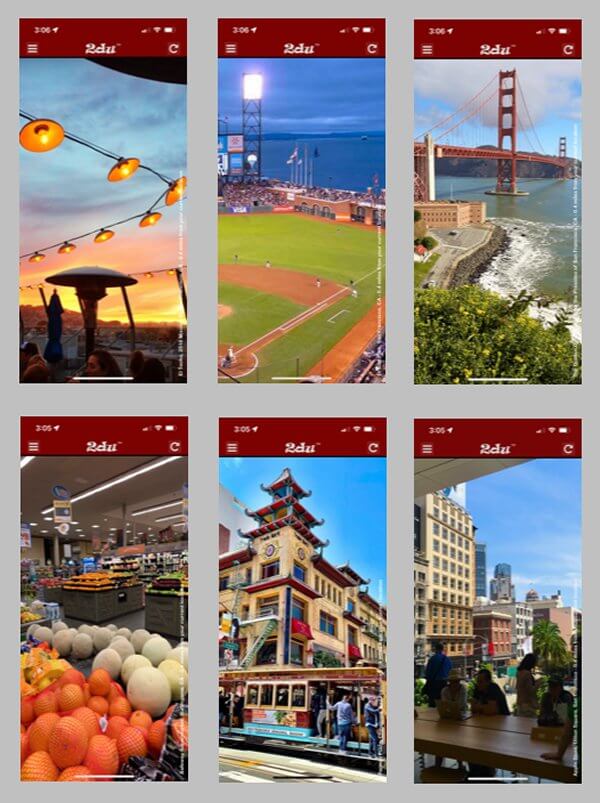 To send an image to 2du for consideration, please submit a HELP TICKET and include the image as an attachment.